We have several buses available. They vary in size and detail, but basically they are adapted the same: In the front is a comfortable sofa where you can watch movies or play console games and a workplace with a table. Then, eight seats follow with tables. In the middle of the bus there is a small kitchen with a coffee machine, a fridge for drinks and a microwave. At the back there are 10-12 fixed bunks with good mattresses, ventilation and reading lights. There are plenty of 230 outlets all over the buses.
Specifications:
15-17 seats
10-12 bunks with a/c
WC
Aircondition
Fridge
Coffee and espresso machine
DVD + Xbox One
Cd-player
6-9 m3 loading capacity
230V in all bunks
Tinted windows
Trailer, max 3.500 kg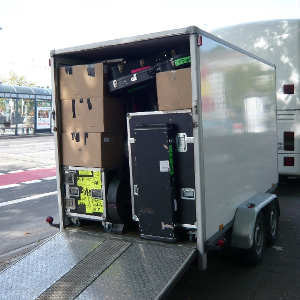 All of our buses are fitted with exhaust filters that allow them to be approved for driving in the largest Danish cities as well as a number of European metropolitan areas.
We have a couple of trailers with 10 to 17 m3 loading capacity. They a with a loading ramp and secured locks.
Other trailers can be arranged.